LAFAYETTE, CO, April 11, 2022 – Composite Technology Development (CTD) Inc. is pleased to announce that our CTD-7.1 enabled Type V, lightweight, all-composite linerless pressure vessel was used by Lockheed Martin to achieve a world record for flight duration of 39 hours, 17 minutes and 7 seconds for the small, group 2, Stalker VXE unmanned aircraft on Feb. 18, 2022, at the Santa Margarita Ranch in California. The flight utilized a CTD custom-made pressure vessel constructed utilizing CTD-7.1, which is a toughened, microcrack resistant epoxy resin for structural filament winding applications and off-the-shelf carbon fiber. The 8.6-liter pressure vessel was designed, constructed and validated by CTD in under two months for Lockheed Martin using CTD's proprietary process for fabricating Type V pressure vessels.
This lightweight tank weighed less than two pounds, enabling sufficient storage of the liquid propane gas for the solid oxide fuel cell (SOFC) that powered the Lockheed Martin Stalker VXE UAS to achieve the flight record. This extended endurance is unique and cost-effective for an unmanned platform of this size, which provides the operator with a richer data set upon which decisions can made in applications such as automated pipeline inspection, forest and wildfire management, and other operations where it is beneficial for a low cost, quiet, long endurance, and maneuverable unmanned autonomous system to capture information over a long duration.
CTD and Lockheed Martin have partnered for over a decade on lightweight, all-composite linerless pressure vessels for unmanned aerial system applications, and continue to explore novel applications of these structural resin technologies and pressure vessel products for emerging propulsion applications including compressed hydrogen and liquid hydrogen powered fuel cells.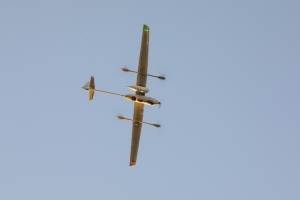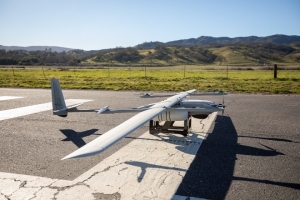 Lockheed Martin Stalker VXE UAS with wing-mounted CTD 8.6L Pressure Vessel (Photo Credit: Lockheed Martin)
About Composite Technology Development, (CTD) Inc.
CTD is a specialty, engineered materials and product-development company delivering high-performance composites and resin systems for harsh and demanding environments. Founded in 1988, the company strives to be a world leader in advanced materials and system solutions for challenging environments by delivering superior value to our customer's products and systems through the use of innovative engineered materials and manufacturing solutions. CTD solutions are widely used by partners and customers in the energy, aerospace, and scientific industries around the world.